Our Culture
Dance parties. Yoga classes. In-house massage. Catered lunches featuring fresh, sustainably-sourced ingredients.
Does this sound like your typical office?
That's because it's not. At DMV.ORG, we don't believe that coming to work means leaving your personality behind. This is a place where you can be who you are, and do what you love.
Our office is situated within a repurposed surfing warehouse—lovingly dubbed "the WareHome"—just 2 blocks east of Moonlight Beach in beautiful Encinitas, CA. Spend a day in the office, and you'll encounter everything from mindfulness to fitness classes, from intense collaboration to Nerf gun wars.
In contrast to the traditional business model of "company first," we place value on people, planet, and profit, as evidenced by our Impact Program awareness, service, and financial GiveBack campaigns. We carry that dedication even further through to our most valuable asset—our DMV.ORG team! Check out some of the highlights of our unique culture.
Awarded Top Company Culture – DMV.ORG not only holds rank in the pages of your favorite search engine—we've also consistently been recognized for our awesome culture and workplace!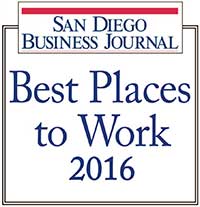 In August 2016, the San Diego Business Journal named us one of the best places to work in San Diego (what!?!), and in November 2015, Entrepreneur.com recognized our company culture as one of the best in the nation. These awards are each based on the behaviors, best practices, and attributes that have shaped high-performing workplaces, and we are incredibly proud of our hard work in these areas. We're honored to have been recognized, and we'll keep striving for more!
Team Wellness
A healthy, happy team means a productive workplace, so we put deep care into keeping you strong and stress-free. In the WareHome you'll find:
Weekly fitness classes, ranging from yoga to surf lessons
In-house massages twice a month
Healthy snacks and immunity boosters throughout the office
We encourage getting outside for a lunchtime run, bike, or surf—we even keep a place to stash your surfboard! Plus, we offer a fitness credit so that you can continue your lifestyle outside of your workday.
Mindfulness Program
A focused and quiet mind is essential to work, learning, and growth, and we feel strongly about nurturing our ability to fully "drop in" to each day. Each morning kicks off with a Team Huddle that begins with a few quiet, mindful moments, allowing you to clear your mind and focus on the day at hand. We also create space for a larger group mindfulness practice each afternoon, so our team members return refreshed, clear, and ready to take on the rest of their workday.
Lunch Program
We enjoy daily catered lunches made with organic, sustainably-sourced ingredients, including:
Vegan and gluten-free options
Seasonal ingredients and dishes
Themed menus featuring a wide variety of cuisines
Additionally, a lunch credit is provided every Friday, so you can enjoy your favorite meal out on the town!
Team Training
A company flourishes when its employees are constantly growing into their potential. We offer a variety of education and networking opportunities, including:
Conferences and networking events held around the country.
Leadership and management training courses for those who show potential for leadership roles within the company.
Guest speakers and trainings on topics such as Conscious Capitalism, emotional intelligence (EQ) in the workplace, and general team building.
It's clear that we place a huge focus on the mental and physical health of our employees. We know how to work hard and play hard, and believe that when our team is happy, everyone benefits—especially our visitors!
Provide Feedback
Was this information helpful?