DUI Attorneys in California
SUMMARY: California DUI Attorneys
In California, a DUI attorney can help you if you are charged with drunk driving. This serious violation can result in a suspended driver's license and even jail time.
NOTE: The content of this website is intended solely for informational purposes. It is not a source of legal advice and should not be used as such.
Continue reading this page to learn more about how a DUI lawyer can help you.
Hiring a California DUI Lawyer
After you are charged with driving under the influence of alcohol or drugs (DUI) in California, the court dates, legal paperwork, and penalties you face can be confusing, time consuming, and overwhelming.
You may wish to hire a DUI lawyer to help you figure out what to do after getting a DUI in California.
In many cases, your lawyer can:
Attend a Admin Per Se Hearing at the Department of Motor Vehicles (DMV).
Appear in court on your behalf, saving you time.
Negotiate your charge and enter your plea to help get the best possible outcome for your specific circumstances.
Complete and file all required paperwork.
Help you navigate the steps to take before, during, and/or after a conviction.
An attorney's experience and legal expertise can make the confusing and lengthy DUI process a little easier to handle.
Possible Consequences of a DUI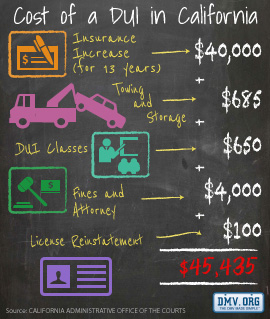 If you get a DUI in California, you will be subject to BOTH:
CA Department of Motor Vehicles penalties.
Court penalties.
Generally, your DUI lawyer will handle the court process, but may be able to help you understand the California DMV process, too.
DUI Arrest & CA License Suspension
If you fail or refuse to take a blood alcohol concentration (BAC) test, you will be arrested. The California DMV will suspend your driver's license soon after your arrest for:
4 months, if you're at least 21 years old.
1 year, if you're younger than 21 years old.
NOTE: CA DMV penalties are separate from any penalties given to you by the court system and DO NOT require a conviction in criminal court.
You can request a California DMV hearing within 10 days of receiving your driver's license suspension notice.
Criminal Court Penalties
NOTE: Court penalties may not be handed down until many months after your arrest.
If you're convicted of a DUI, the court can suspend your driver's license again as part of your criminal penalty, which could also include:
Attending a DUI program.
Paying a fine.
Serving time in jail.
Completing community service.
A DUI attorney may be able to help you:
Satisfy these requirements.
Pay your fines.
Avoid some penalties altogether.
Long-Term DUI Penalties in CA

After a DUI conviction, the California DMV will be notified and you will receive 2 points on your CA driver's license. They will stay on your driving record for 10 years.
Your driver's license can be suspended if you receive too many points in a specific time period. See our DMV Point System page for more information.
A conviction can also raise your car insurance rates:
A suspended driver's license and/or DUI conviction makes you a bigger risk to insure and raises your premium.
AND

You may be required to file an SR-22, which most insurance companies charge for.
While these consequences are unavoidable, having a DUI lawyer handle the legal aspects of your conviction may help ease some of your stress.