Apps to Fight Distracted Driving
Apps to Fight Distracted Driving
Distracted driving is not a new danger, but it is a very real one that continues to grow. Every single day, people are hurt or even killed due to an accident directly related to distracted driving.
It is not a secret that cell phones and smartphones have played a big role in the increase of distracted driving incidents. What you might not know is that several app developers are working to create ways to help make your phone a tool to fight against distracted driving, rather than a cause of it.
With app stores filling with apps meant to keep you from driving distracted, you may be left wondering which app is best for you.
DON'T BECOME A DISTRACTED DRIVING STATISTIC.
Distracted driving accounts for 9 deaths every day—deaths that are completely preventable simply by keeping your eyes on the road and your hands on the wheel.
Take back your focus. Pledge today to drive distraction-free.
How Apps Can Help
These days, our phones are incredibly powerful. They can keep us in constant contact with our friends and family. They can practically put the whole world's information in the palm of our hands. It is not surprising, therefore, that people find it difficult to stay off their phones, even while driving.
Consider, however, that reading just one text message keeps your eyes off the road an average of 5 seconds. A lot can happen in 5 seconds.
By incentivizing safe driving, or even directly blocking you from using your phone, distracted driving apps aim to keep your attention off of your phone and on the road.
Choosing a Distracted Driving App
There are several distracted driving apps available. We here at DMV.org got our hands on several top-rated apps to help guide you towards an app best suited for your needs.
When choosing a distractive driving app, consider the following:
Is the app compatible with your phone?
Does it have the ability to block messages and phone calls?
Can it track the miles you have driven safely?
Will it provide notifications to parents?
Does it offer rewards for driving safely and distraction-free?
Our Reviewed Apps
While we reviewed several distracted driving apps, four particularly stood out to us. Below is a quick-reference chart of our findings—keep reading for details on the features in each of these apps.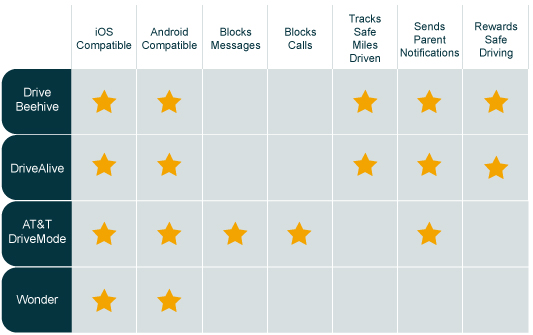 Drive Beehive
PADD's official safe driving app, Drive Beehive, works by connecting drivers with sponsors (friends, family, schools, businesses) who can set rewards for safe miles driven.
This easy-to-use app appeals to us because of how simple it is to be a sponsor and to create your own safe driving campaign.
Drive Alive Lite
Sponsored and approved by People Against Distracted Driving (PADD), the Drive Alive app tracks your safe driving hours (SDHs). Your safe driving hours are then used to enter you into lotteries for various prizes, which include cash and other free items.
You can find the app for:
AT&T DriveMode
Available for both iOS and Android, AT&T's DriveMode app helps keep drivers from distraction by blocking any phone taking or texting and driving.
DriveMode can be set up to automatically start when you are driving over 15 MPH. You can even have it notify you when your teen driver has the app deactivated, or if certain settings are changed.
We like this distracted driving app because it is easy to set up, runs smoothly, and is exceptionally user-friendly.
You can even set up your own prizes for a private group of drivers, or for the public.
Wonder
The Wonder app sets itself apart from the other apps on our list by empowering not only the driver, but people who may want to message or call the driver.
Through Wonder, your contacts within the app will know that you are driving before texting or calling you.
While Wonder only works if all parties involved have the app, we like the unique and simple take Wonder has on safe driving.
Our Pick for the Best App
To choose our favorite distracted driving app, we considered all of the desirable features, and looked at each app as a whole.
After thoroughly testing each app, it became clear that our top pick for distracted driving apps is Drive Beehive.
With no technical issues that we could identify, there is an outstanding ease of use for this app. Our favorite feature, however, is how it uses interactivity to incentivize safe driving. It is also a very big added bonus that this app has the PADD stamp on it.
Getting Your Safe Driving App
No matter which one you decide to choose, downloading a safe driving app is a big step towards driving without distraction. Use your phone as a safety tool, and keep yourself accident-free.
Related Content
Provide Feedback